Description
Cel-Fi GO RMOE
The highly reliable, ruggedized and remotely managed cellular repeater solution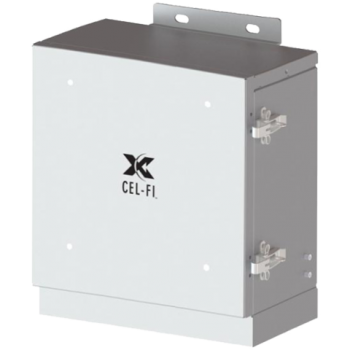 Remotely Managed Outdoor Equipment
The Cel-Fi GO RMOE is a high reliability, ruggedized and remotely managed cellular repeater solution that leverages the Cel‑Fi GO product combined with a cellular modem to establish an Internet connection to Cel-Fi's cloud management platform. The product is designed to extend the cellular network to remote and rugged locations that are not readily accessible to service technicians.
Remote Management: Users can access the Cel-Fi WAVE Portal remotely through a web interface.
Performance Management: Easily control systems and ensure optimal performance.
Remote Troubleshooting: Troubleshoot and support systems remotely using real-time data and performance metrics.
WAVE Portal: Cel-Fi WAVE remote device and asset management, enables data modeling and reporting, and globally trusted carrier-grade security.
Web Based Applications: Easy to connect to other web based services for a fully integrated and remotely managed site solution.
Ease of Installation: Cel-Fi GO RMOE intelligently and automatically senses and adapts to its environment, including Operator network changes, or those caused by other nearby Cel-Fi devices or boosters.