Description
Triband Pro Signal Booster For 2G, 3G & 4G All Networks
Vodacom | MTN | Telkom | Rain | Cell C | Virgin | Neotel | Orange | Mascom |  MTC & More – 2G 3G+4G Voice and Data
This Triband Pro booster is a one stop shop system
It Amplifies, Purifies, Magnifies & Boosts All South African/ African Carriers for Phone calls, Sms and 3G/4G data.
The Triband Pro Booster is excellent for medium to large holdings from 500sqm, but limited to an average maximum of 4 or 5 indoor antennas only.  Used on Farming homes, lodges, offices, clinics, schools, colleges and guest houses it has the ability to increase cell phone signal for phone calls and data 2G sms (text messages), internet 3G, and even High Speed LTE 4G data.
The cell phone signal brilliant performance for All NETWORKS are guaranteed with this Triband Pro signal booster.  It can support from 50 to 85 simultaneous devices or users without dropping calls, while sustaining perfect 3G & 4G internet data coverage all at once.
This Triband Booster Pro unit is great for improving mobile phone signals for a minimum of 5-10 rooms and for double-storey properties delivered with a 3-year replacement warranty. If your outdoor reception is inconsistent or sporadic, you can get optimum signal strength with our stronger outdoor antenna. Our Triband-connected high-gain Yagi antenna enhances the coverage of your mobile phone and devices substantially, removing call dropouts altogether and significantly increasing the 3G / 4G internet data.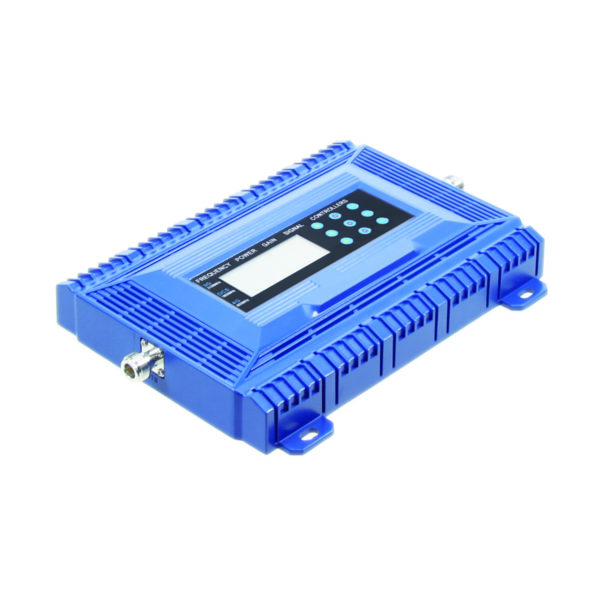 This Triband Signal Booster has all the appropriate peripherals needed to make it work at its full potential. It enables uninterrupted phone calls, sms (text messaging), internet 3G data & LTE 4G high-speed online uploads and downloads at its peak. We assure that you benefit constantly from free technical assistance through e-mail and telephone, as you are highly important to us, to guide you through the installation of your booster. We can do that also if you want us to install it for you. For additional information, please contact us.
The Triband Pro Signal Booster, freshly developed, offers additional key functions and benefits such as:
Coverage For All South African Networks, All Frequencies 2G voice phone calls, 3G & LTE 4G data
Coverage areas from 500Sqm to 4000Sqm
ALC (Auto Level Control) and AGC / 0~30dB Range
RSSI Signal Strength Indicator and Oscillation Alarm
Upgraded Gain Level 70dB
Supports 50-85 Simultaneous Users
30-day money back guarantee
3 years warranty
Free Technical Support
How does the Booster Triband Pro work?
The Pro Triband all in one signal booster aims to enhance signals across South Africa and in other areas of Africa for all network services and their different partners.
Once you receive your order from us, please check to ensure that the package includes the following items.
What's Included With Your Booster
1 x  Tri Band signal booster
1 x Outdoor standard panel antenna. (For poor outdoor signal we recommend our Yagi antenna)
1 x Indoor Panel antenna
1 x 10 meters coaxial cable
1 x Power supply
1 x Easy to work with installation manual
How To Do A Basic Install?
First, seek for a suitable mobile signal location on the roof or at a high point outside the building. Our Powerful signal boosters will also cover you with 1-2 signal bars from outside (do not worry if you can't locate full signal bars on your mobile phone from the outside, simply ugrade to a yagi antenna). Mount the outside panel antenna towards the main direction of the network tower. Connect the 10m cable into the booster inside of the property and run the other end of the cable up to the external panel antenna on top of the roof or vice versa.  See example below showing a properly mounted outdoor panel antenna which by the way must always be horizontal not vertical.
Depending on where it is mounted and connected to the coaxial cable, the Panel antenna receives the weak and strong signal from a 180-degree angle from the tower of the service provider. The outdoor antenna pulls the signal from the network cell tower, brings the signal down into the booster which in turns amplifies that signal and redistributes stronger signal through the indoor antenna(s) inside of the property. Please verify that all antenna cables are firmly secured and connected to their corresponding ports.  We recommend that the booster (indoor antenna) and external antenna are at least 10 meters apart.
Switch on the power supply and right away you will surely see an increase in your mobile phone signal. You can then relax and enjoy a strong signal coverage for your calls and high-speed data download on your devices. If the outcome is not what you anticipated, you might just need to reposition the external antenna and check for loose connections. Double-check and ensure that all connections are done correctly for the right BTS and MS Ports (BTS is for the outdoor antenna and MS is for the indoor antenna). If you experience any persisting challenges while installing, please feel free to talk to our Technical support team who are here to help.
We understand that not everyone has the time or the technical know-how to do certain installs,  we have experienced Installation team members with comprehensive experience in custom-built boosters installations for multi-room and high rise buildings. For multi room installations, our team can help with this for a fee. Ask for a survey or a quote and we will be glad to make this happen at a competitive rate.
Queries and More:
If you are unsure of the type of booster you require for your premises, the frequencies of your network provider or any of our products or related products give us a call or drop us a mail and one of our support team members dedicated to your service will surely attend to your queries and get you started and sorted.
Product Specifications
SKU
 The Triband Pro Signal Booster
Gain
UL 29~60dB

DL 34~65dB

Power
UL Max 23dBm

DL Max 19dBm

Coverage
500sqm
Frequency
GSM 900MHz:       UL 890~915MHz – DL 935~960MHz

GSM 1800MHz:     UL 1710~1785MHz – DL 1805~1880MHz

3G UMTS:            UL 1920~1990MHz – DL 2110~2180MHz

4G LTE Band: UL 1710~1785MHz – DL 1805~1880MHz

Ripple in Band
≦ 5dB
Spurious Emission
 ≦ -30dBm ~ -36dBm
Max Noise Figure
≦ 6dB
Return Loss
≦ 3dB
Time Delay
≦ 0.5μs
MTBF
> 50000hours
Power Supply
AC100~240V 50~60Hz / DC12V 2A (Included)
Power Consumption
 < 10 Watt
Impendence
50 Ω
Connector
N-Female as standard
Cooling
Heatsink convection cooling
Dimensions (DxWxH)
Weight
2280 Gram
Environment Conditions
IP 40
Humidity
< 90%
Operating Temperature
10°C – 60°C