Description
SBG900P PRO Booster 2G Vodacom & Cell C Voice
The SBG900P is a single band mobile phone booster is designed to boost 2G voice  calls and text messages for all networks operating on the 900MHz frequencies. This 2G Voice booster in South Africa, for voice & SMS primarily on the Vodacom & Cell-C Network.
As one of the most common frequencies in South Africa, the GSM 900 Mhz included in this specific sequence has a distinguished output that offers a range of up to 500 sqm. It accommodates between up to 40 concurrent users/devices in medium to semi-large office environments, warehouses and residences.
This model offers a steady, continuous and intensified coverage of cell phone signal enhancement in a capacity of up to 500 sqm. contributing to the complete elimination of dropped calls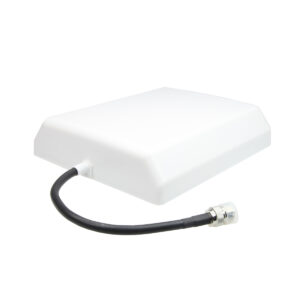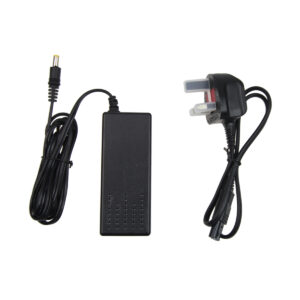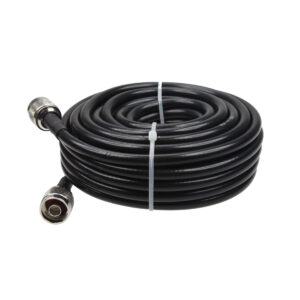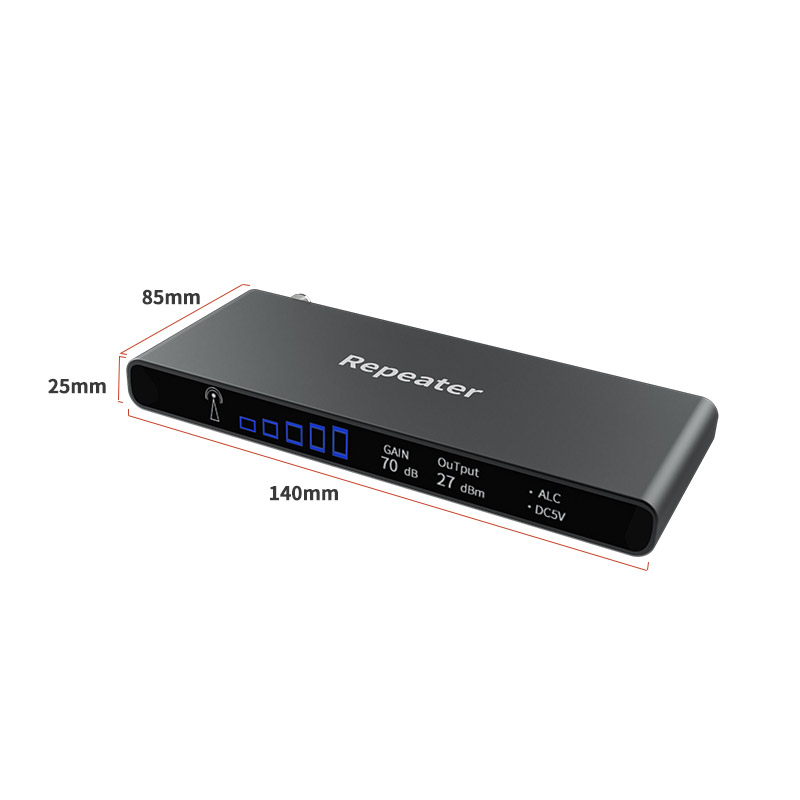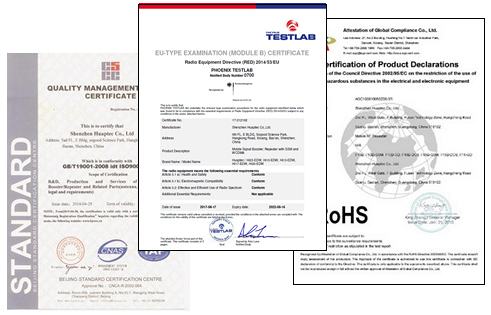 This unit is ICASA Licence exempt and in compliance with the Global health and safety regulations.
Our basic setup guide, which comes with all of our amplifiers, will direct you further through the installation process.
The system is delivered as a full basic package and includes: 10-meter coaxial cable, an outdoor panel antenna, a single band amplifier/booster, a power supply and an indoor whip aerial.
When the installation is done effectively and your system is turned on, you will begin to receive full mobile phone signals on all your devices within proximity of the indoor antenna(s).  Signal improvement will not be limited to mobile phones only. Improved RF signal will become very apparent immediately on any other devices that uses a sim card & for multiple users simultaneously.
Our Promise!
Because of who we are and what we feel. Our trust in our goods allows us to offer a two-to three-year replacement warranty for virtually all of our products and, even better, a 15-day money-back guarantee. It's easy and straight forward, just do it, and if, for some surprising reason, it ever happens that it doesn't work, feel free to contact us, and we'll be glad to help.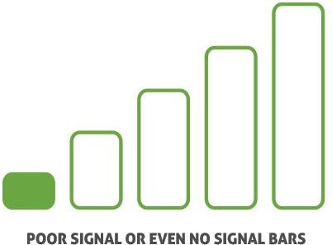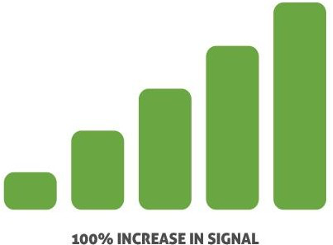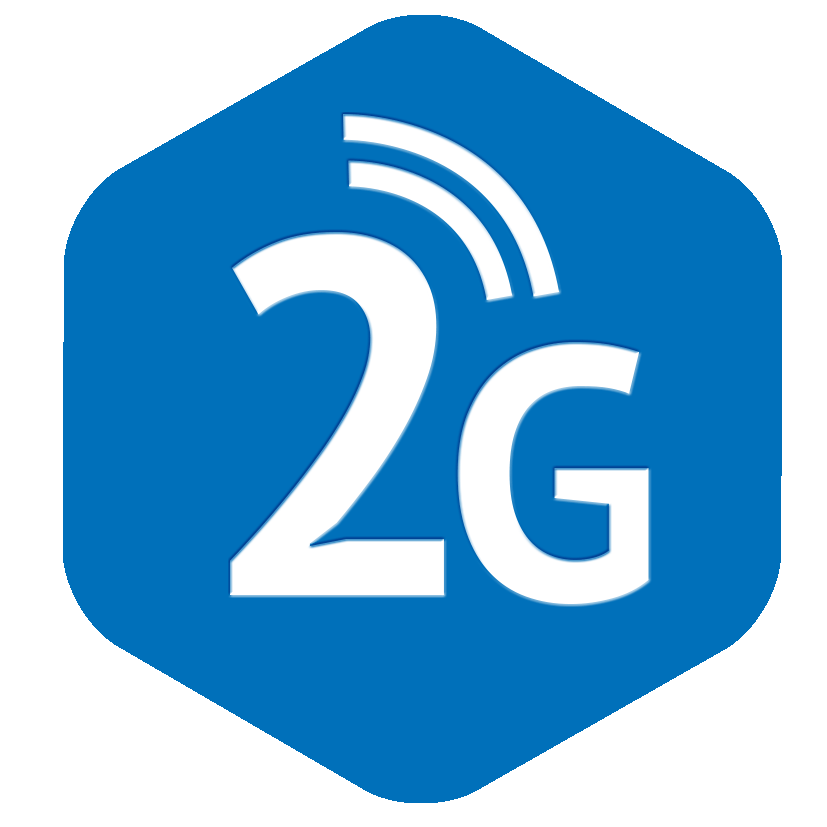 Voice calls and text for South African Networks
Configuring Your SBG900Pro Effectively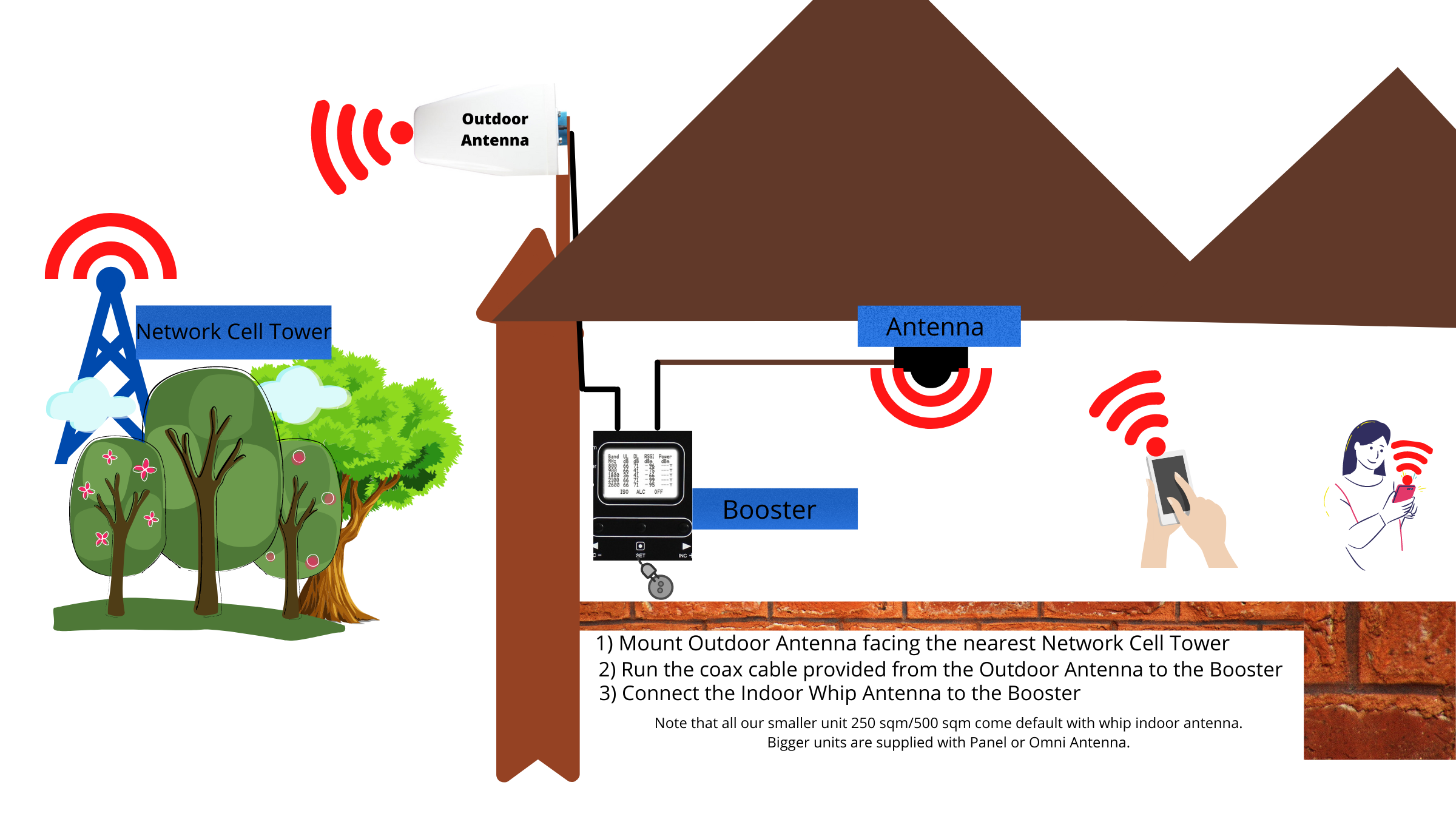 The installation process for the SB900Pro mobile phone signal booster is no different from most of our equipment and all the accessories are very much alike, with the only possible exception of the much larger custom-made units that we would normally install on your behalf.
AN OUTDOOR ANTENNA: In the installation of the booster, this accessory is one of the most needed kits, it is installed outside and its main purpose is to pull signal from outside via coaxial cable
10 METRE COAXIAL CABLE: The coaxial cable is attached at one end to the outdoor antenna on the roof and the second end to the mobile booster within the house. The cable helps to transmit a signal into the repeater from the external antenna.
INDOOR GSM 900PRO Signal Booster: The cell phone booster is an integral part of the puzzle, helping to amplify the mobile phone signal in the building through the indoor antenna until the signal is transferred from the roof antenna through the coax cable.
INDOOR ANTENNA(S): This is the distribution antenna. This high-power indoor antenna is used by the smart signal booster to internally spread the signal.
Essential TO NOTE: If the walls within your property are very thick, steel-reinforced or if you have old stone walls, it is highly recommended that you build a DAS (Distribution Antenna System).
This means that more than just one indoor antenna will most likely be needed. In specific rooms or halls, you can then connect some additional cables and a 2-way, 3-way or 4-way splitter to extend the signal through one or more additional indoor antennas to ensure perfect signal strength to flow across the building.
AC/DC POWER SUPPLY: The repeater with all the electrical current it requires to work is turned on with the power supply and power plug of the AC/DC provided.
Need help figuring out this unit?  Contact us Now
Whats Included In The Box
1 x SB900 Pro Mobile booster
1 x Outdoor Panel Antenna
1 x 10 meter Coaxial Cable
1 x AC/DC Power Supply
1 X Indoors whip Antenna
1 x Easy to work Installation Manual
Product Specifications
| | |
| --- | --- |
| Coverage Area | 500 m² |
| Application | Small Home&Office |
| Network Type | Calls |
| Frequency | 900 MHz (GSM/EGSM) |
| Frequency Range | 880~915MHz (Uplink) 925~960MHz (Downlink) |
| Number Of Bands | Single Band |
| Max. Gain | 60dB (Uplink) – 65dB (Downlink) |
| MGC (Step Attenuation) | ≥ 31dB / 1 dB step, dip switch control |
| Intelligent AGC (ALC / ISO) | ≥42 dB / ≥42 dB |
| Gain Flatness | Typical ≤5 dB (P-P) |
| Noise Figure @ Max. System Gain | Typical ≤5 dB |
| V.S.W.R | Typical ≤2 |
| Group Delay | ≤ 1 μs |
| Frequency Stability | ≤0.01 ppm |
| Power Supply | Input AC90~264V.50/60Hz,Output DC 5V/3A |
| Power Consumption | ≤5W |
| Input & Output Impedance | 50 ohm |
| LCD Display | Frequency, Gain, Output Power, ALC, ISO, etc. |
| Indication LEDs | No |
| I /O Port Type | N-Female |
| Dimensions | 120*155*34mm / 4.7*6.1*1.3 inch |
| Booster Weight | 0.75 Kg |
| Booster Weight with KIT | 3.15 kg |
| Operating Temperature | -10ºC~+55ºC |
| Storage Temperature | -10ºC~+80ºC |
| Relative Humidity | 5% – 95% |
| Barometric Pressure | 55 kPa -106 kPa |
| Environment Conditions | IP40 |