Description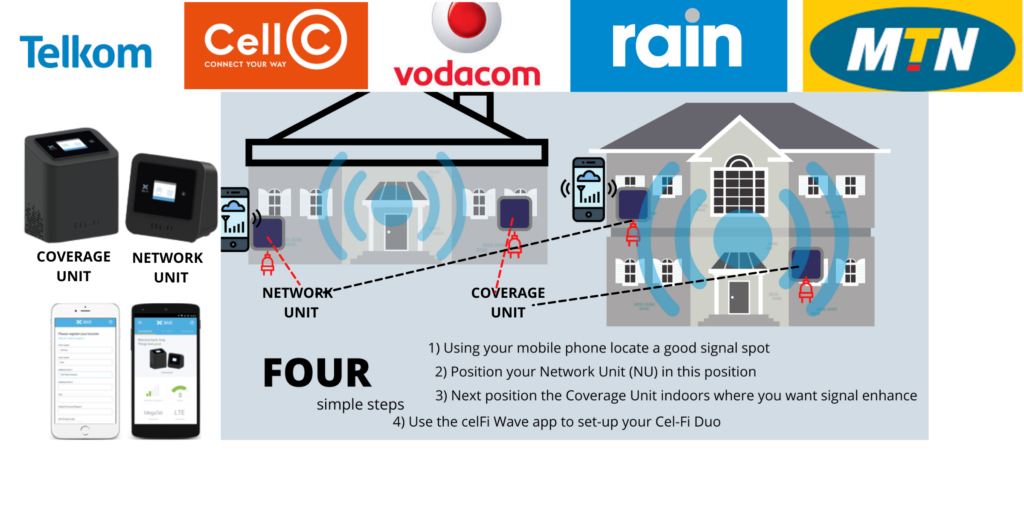 Cel-Fi PRO improves 3G, 4G, and LTE cellular service by eliminating dead zones and dropped calls. With 100 dB of gain, the PRO will not only improve cellular service across four (4) concurrent bands, it will also reduce your cell phone's power requirements and extend its battery life. Cel-Fi PRO covers up to 13,000 ft2 (1,200 m2) of indoor space per system. The system features an LCD color interface, is fully self-contained and self-configuring, and requires no external antennas or wiring. Simply plug it in to boost indoor cellular coverage.
Cel-Fi PRO is ICASA approved. It has been approved by numerous mobile operators and regulatory bodies globally.
Cel-Fi PRO EXA variants feature an external antenna connector. An external Donor antenna can therefore acquire an outside signal, allowing it to be used in applications where no indoor signal is present (i.e. cement, metal walls, etc.). This enables cellular coverage in hard to reach places by allowing the Network Unit to be placed where no service exists. This opens up new opportunities for using Cel-Fi PRO when other solutions fail.
Move the CU further away from the NU to maximize coverage.
The total coverage area equals twice the distance between the NU and the CU. The maximum distance is up to 100 dB path loss.
Licence exempt and fully meets
Quick and easy setup and installation
100 dB max signal gain covering an area 16,000 ft2 / 1,500 m2 per unit
Available for all South Africa Networks
Can easily switch between mobile networks via the Cel-Fi WAVE app
Boosts both 3G and 4G signal coverage simultaneously
Smart Signal Booster with IntelliBoost© Chipset – Unconditionally Network Safe
Remote monitoring and management with the Cel-Fi WAVE app
The system needs to detect a minimum signal outside of the building to operate.
Installation
Quick Installation: The Cel-Fi Pro comes with a Cel-Fi Whip Antenna and Cel-Fi Patch Antenna. These can be used to get a system up and running in minutes.
Advanced Installation: If you need a more powerful donor antenna you can connect the Cel-Fi Pro to an outdoor Wideband Directional Antenna. If you need to get coverage to more areas of your building, you can use Splitters and connect to multiple Server Antennas
Simultaneously supports multiple channels with bandwidths from 5 to 20 MHz
Total system relay bandwidth of 60 MHz
Relays three (3) channels simultaneously (up to 20 MHz each)
Peaceful coexistence with adjacent Wi-Fi (2.4 GHz & 5 GHz), femtocells, and mobile devices
Automatic Gain Control (AGC) based on fast real-time echo-cancellation
Dynamic gain control always ensures maximum gain, best coverage in ever changing RF environments, without user intervention
Configurations
All systems are reconfigured to specific carriers

Bands 1/3, 1/7, 1/8, 1/3/7, 1/3/8, 1/3/7/8, 1/3/8/20, 1/7/8/20, 2/5, 2/4/5/12, 1/3/5/28, or 3/5/28
CE, FEE, RoHS, IC, EAC, R&TTE & EN
Full uplink:
• 30 Watts
Idle:
• <20 Watts
Electrical & Environmental Requirements
Network Unit
• 179 x 155 x 110mm (540g)
Coverage Unit
• 160 x 164 x 70mm (450g)
Cel-Fi Pro Booster includes:
Cel-Fi Pro Smart Signal Booster
1 x Cel-Fi Whip Antenna
1 x Cel-Fi Patch Antenna
1 x Wall mounting bracket
Self-organising edge intelligence ensures that Cel-Fi Pro do not interfere with other indoor wireless products such as Wi-Fi routers, Small Cells, and Distributed Antenna Systems (DAS).
High speed Automatic Gain Control ensures that Cel-Fi Pro are unconditionally network safe and enables more simultaneous calls and higher data speeds.
Activate, Optimize, and Manage Cel-Fi products with the Cel-Fi WAVE App
Cel-Fi WAVE is the software application used for registering, setting-up, remotely monitoring, and updating Cel-Fi products. It provides a glance-able view to the state of your Cel-Fi environment and includes:
A dashboard overview of all your systems
Real-time data and performance metrics
Easy activation and registration
Operator changeover if you switch your network
Software update management
Users and group management
The Cel-Fi WAVE App is available for iOS, Android, PC and Mac devices.
*This unit supports multiple networks however only one network can be used at a time. The WAVE App can be used to switch between mobile networks.